Posted on: January 13, 2016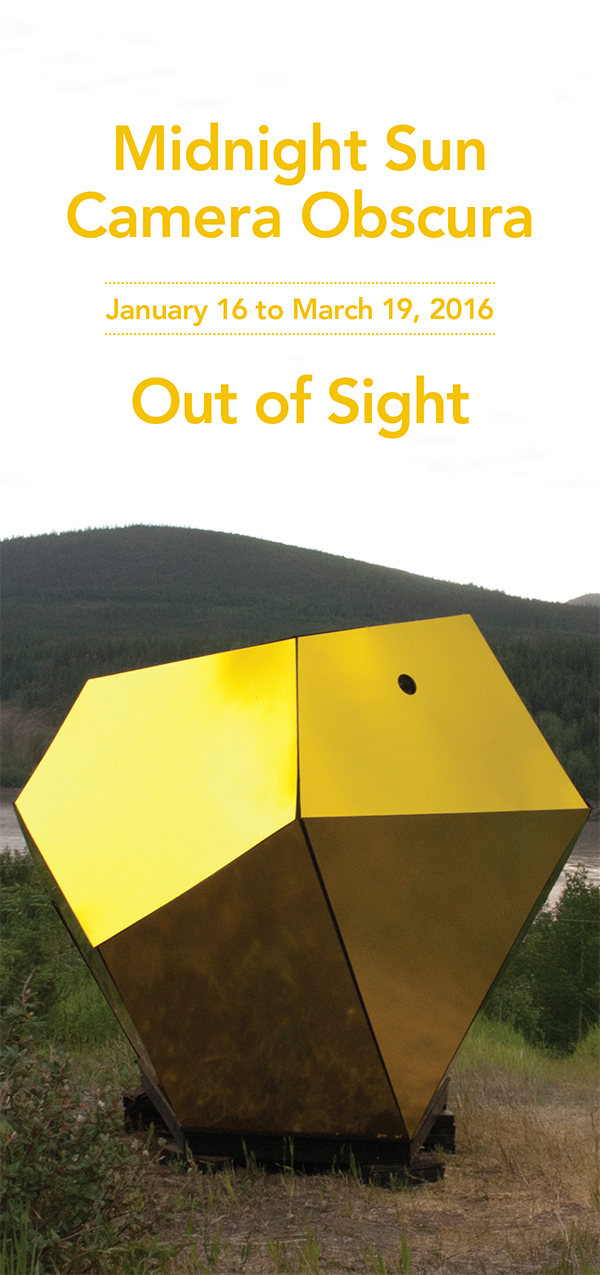 Midnight Sun Camera Obscura   Kamloops Art Gallery, Central Gallery

Opening Saturday, January 16 – 6:30 pm. January 16 to March 19, 2016
Camera obscura is Latin for "darkened chamber" or "dark room." It is a device that admits light through a small opening (often behind a glass lens) into a box or darkened room to project an upside down image of the outside world onto a surface opposite. German Astronomer Johannes Kepler coined the term "camera obscura" in 1604, but experiments with optical devices that eventually led to the creation of light-proof chambers with holes that act as a lens began by astronomers as early as the fourth century BCE. Cameras obscura were used in the Renaissance period to produce images and plans for linear perspective and in the eighteenth century for staging scientific experiments. It was through these observations and discoveries that we learned that the visual imprint of light on the retina is inverted. Theories of optics and the use of the camera obscura have driven philosophical inquiry into the nature of what we see and how we see in the world around us.
Conceived and organized by Kamloops-based artist and visual arts professor Donald Lawrence, The Midnight Sun Camera Obscura Festival was a far-reaching project funded by the Social Sciences and Humanities Research Council of Canada through Thompson Rivers University. The festival took place in Dawson City, Yukon, in the summer of 2015. It brought together an international group of artists and other researchers interested in cameras obscura and related optical phenomenon as a meeting place of art and science, cultural and wilderness settings. The festival was held during the summer solstice, taking advantage of the longest day of the year in order to allow the projects to be viewed most effectively. It featured multiple site-specific installations throughout Dawson and included coinciding exhibitions at the ODD Gallery and the SOVA Gallery. It also included a wide range of workshops, tours and public talks, all focused around the theme of the camera obscura.
The exhibition at the Kamloops Art Gallery provides a document of the festival and the projects made specifically for that event. Many of the artists are based in Kamloops and all share a converging interest in exploring the possibilities of the camera obscura. While an exhibition indoors is not able to replicate the off-site context and "wilderness" sensibility of the festival or include work by every artist involved, work in the exhibition embodies the sculptural innovation and progressive approach to the theme generated by a diverse group of artists.
Midnight Sun Camera Obscura shares gallery space with Out of Sight, an exhibition of historical photographs by Eadweard Muybridge and Harold Edgerton that expand our understanding of time and motion through the still image and is accompanied by a new project by Thompson Rivers University students in The Cube, Live Stream: Optical Rendering. Together, the exhibitions offer an opportunity to understand the history of optics and photography and contemporary approaches to these subjects.
Curated by Charo Neville, Curator, Kamloops Art Gallery
Curator's Tour: Saturday, January 16, 5:30 pm
Opening Reception: Saturday, January 16, 6:30 to 8:00 pm
– See more at: http://www.kag.bc.ca/exhibitions/index.htm#sthash.BXdEuPh3.Fc9BkPot.dpuf