Posted on: January 13, 2016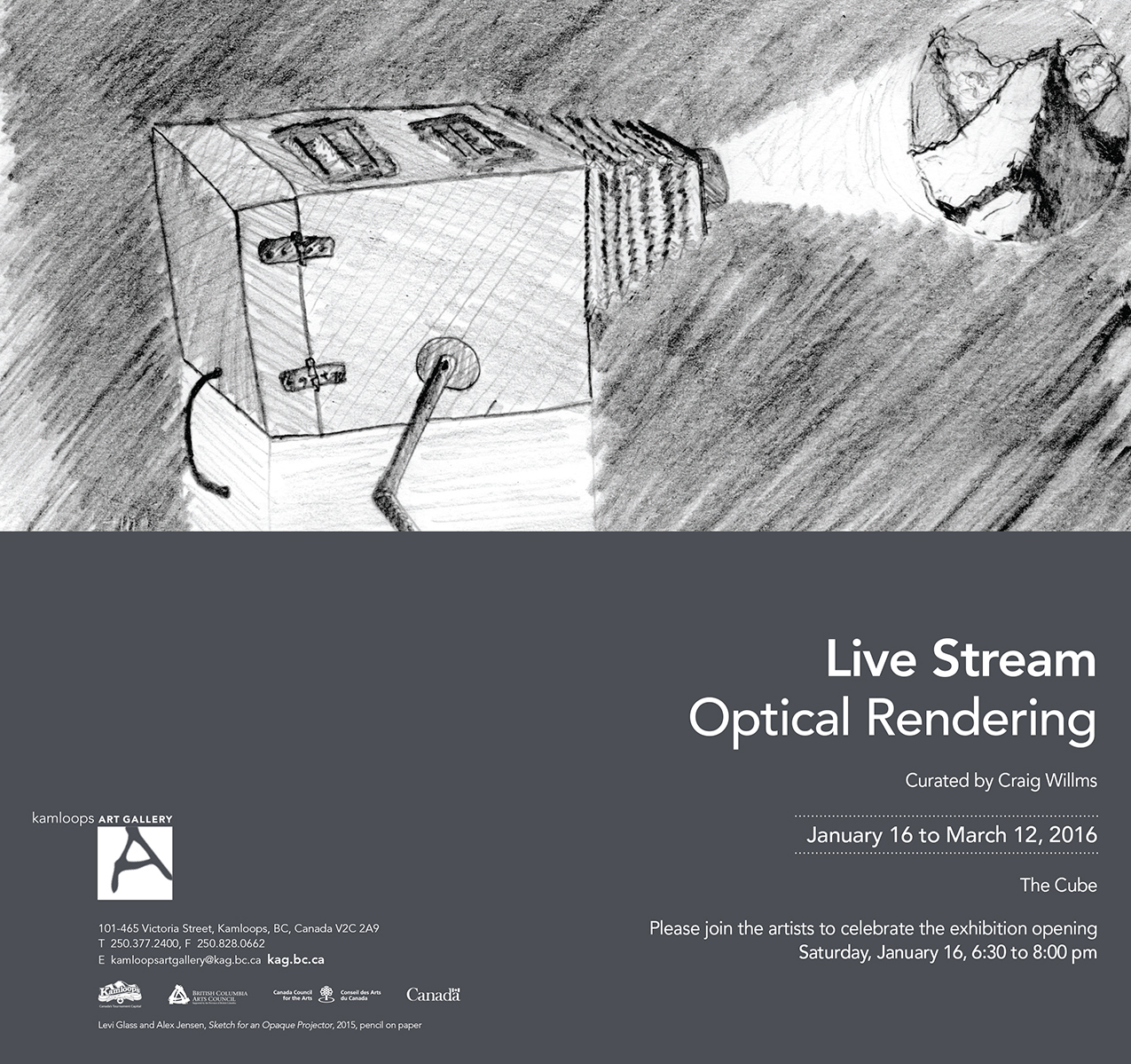 Live Stream: Optical Rendering, Kamloops Art Gallery in The Cube.
Opening Saturday, January 16 – 6:30 pm. January 16 to March 19, 2016
Running parallel with Midnight Sun Camera Obscura in the Central Gallery, Live Stream:Optical Rendering features a new project by Kamloops-based artists who took part in the exhibition Strange Things Done at the Yukon School of Visual Arts' Confluence Gallery during the Midnight Sun Camera Obscura Festival in Dawson City, Yukon in the summer of 2015. Dion Fortie, Ryland Fortie and Levi Glass were among a group of emerging artists who created works that explored self-illuminated sculptural forms in relation to their research into cameras obscura.
For this new project, the artists have created do-it-yourself projectors that cast images onto The Cube walls, recalling the experimental sensibility of the early cameras obscura. Furthering an interest in the physical elements of image projection, the artists have invited other local emerging artists to create physical objects and provide images that make up the subject of the projected images. This collaborative project considers the content of the objects and projected images while drawing attention to the mechanical apparatus itself so that the multiple projections create a dynamic installation of both object and imagery.
Live Stream: Optical Rendering embraces a low-tech approach to projecting images that is linked to a long history of optical exploration embodied in the camera obscura. New approaches to this historical technology involve a consideration of the structure itself and the social possibilities of the camera obscura. These projects serve as a launching point for further investigation, bringing art, science and a do-it-yourself ethic together in a cultural setting.
Curated by Craig Willms, Assistant Curator, Kamloops Art Gallery
– See more at: http://www.kag.bc.ca/exhibitions/index.htm#sthash.BXdEuPh3.Fc9BkPot.dpuf