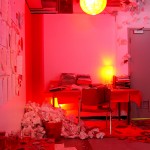 Melanie Perrault is an MFA candidate at Concordia University in Montreal.  Since graduating from TRU, her work has been presented in galleries throughout North America, including Parisian Laundry (Montreal, QC), Art Currents Institute (Manhattan, NY), Klondike Institute of Art and Culture (Dawson City, YT), La Centrale Gallery Powerhouse (Montreal QC), and Kamloops Art Gallery.
---
Gary Carlson is a new media artist working in photography, video and installation. Fundamental to his work are ideas of representation and perception in relation to virtual images. He is equally influenced by the landscape, the history of art, and contemporary culture.  He received his MFA from University of Waterloo in 2011.
---
Lea Bucknell is a multidisciplinary artist with a history of showing in unconventional exhibition spaces and creating site-specific projects.  Recently, she has participated in residencies at the Banff Centre, Vermont Studio Centre, and Pilchuck Glass School.  She received her MFA from University of Western Ontario in 2011, and is currently a sessional instructor at TRU and gallery coordinator at Arnica Artist-Run Centre
---
Jordan Schwab, originally from Prince George, BC, received his MFA from the University of Saskatchewan in 2009. Through a previous career in commercial and industrial construction, his interests in constructed environments have invariably melded with real life experience. He currently lives and works in Saskatoon. He has been included in group and solo exhibitions across the country.
---
Karla Griffin is currently a sessional instructor at UBC Okanagan.  Her recent work explores issues of consumption, commodification, and identity formation through both photography and drawing.  She received her MFA from the University of Saskatchewan in 2009.
---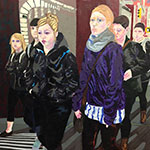 Kaitlyn Frolek is currently an MFA candidate at university of Saskatchewan.  Her current research is focused on the relationships built during her time in New York on an exchange with NYU through the Women and Gender Studies department, touching on topics of beauty, gender, body image, and how our relationships are developed within a metropolitan city.
---
Chris Down is an artist, teacher and writer living in Sackville, NB. He has exhibited his work nationally at the Art Gallery of Calgary, Museum of Canadian Contemporary Art, Museum London, the Owens Art Gallery and the Art Gallery of Windsor among others.  He is currently associate professor in painting and drawing at Mount Allison University.