Position: Associate Professor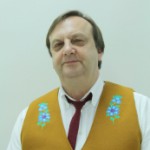 Phone: (250) 828-5480
Email: lbennett@tru.ca
Education:
Ph.D., Art History, The University of Manchester (2006)
M.A., Art History, University of Chicago (1986)
Bachelor of Education, University of Regina (1977)
M.A., Studio Arts, University of Minnesota (1976)
Bachelor of Arts, Visual Arts, University o Saskatchewan (1972)
Bio/Research Interests:
As an art historian, I have spent much of my career as a generalist offering survey courses in Western art. My current research focuses on Canadian and British art of the Great War. I am especially interested to apply contextual research to select areas such as the government-sponsored war memorials commissions to determine the actual working situations and styles of patron-based art. This research is an endeavour to counter the over simplification of art history that tends, through text book chapters etc., to view art history as a series of styles , which can present a false view of how artists actually worked in a given period. The art of the Great War reveals that older traditions are applied to new situations of modern warfare at the same time pictorial innovation springs from the necessity to depict war of mass destruction. It is to this mix of tradition and innovation that reflects the real situation of the official war artist and suggests that other periods of art are more complex than the "chapter style" would have us believe.