Position: Senior Lecturer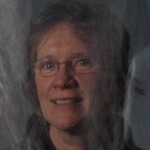 Phone: (250) 371-5706
Email: Icrawford@tru.ca
Education:
Master of Fine Arts, University of British Columbia Okanagan
Bachelor of Social Work, Thompson Rivers University
Bachelor of Fine Arts (Printmaking), University of Alberta
Bio/Research Interests:
I teach first year foundation courses, second and third year screenprinting courses, and the occasional drawing and painting course, as well as advise fourth year students in their studio practice course.
My art practice is multi-focused spanning interests in:
Issues of justice
Gender and the process of aging,
Understanding what it was like to go to war from my grandmother's perspective. I am examining the correspondence and ephemera that he collected and saved from his service in the armed forces during WWII.
General research into new technologies and techniques in printmaking pertaining to teaching.
In addition to teaching and making art, I am a member of the Curriculum of Place research group at TRU. We are a multi-disciplinary group focused on integrating individual (student and faculty) experiences of Place with standard curriculum.
I also collaborate with Lyn Baldwin TRU botany instructor to introduce drawing skills to science students, and concepts of science to art students.