Position: Associate Professor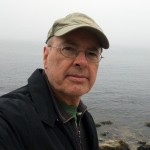 Phone: (250) 371-5964
Email: ekroeger@tru.ca
Education:
Master of Fine Arts, University of Calgary (1987)
Bachelor of Fine Arts (Honours), University of Manitoba (1980)
Bio/Research Interests:
Ernie Kroeger is an interdisciplinary artist utilizing photography and writing. His work employs a conversational narrative model to explore the relationship between present and past; between place and travel. His artwork has been exhibited across Canada and in Europe, and is included in collections such as the Canadian Museum of Contemporary Photography, Ottawa, and Museo Nazionale della Montagna, Turin, Italy. Kroeger's monograph The Great Divide, a collaboration with Alberto Manguel, was published in 2001. My Morning Walk was published in 2009. His most recent solo exhibition Confluence was shown at the Kamloops Art Gallery in 2012.
Over the last several years he has been investigating the relationship between art and walking. These experiments have broadened his art practice to include conference presentations, leading the 2007 Banff Centre residency Walking + Art, co-founding the Walking Lab, an interdisciplinary research group at Thompson Rivers University, and leading guided walks.