Position: Associate Professor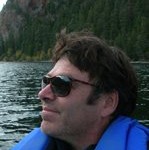 Phone: (250) 828-5481
Email: dbuis@tru.ca
Education:
Master of Fine Arts, York University (1987)
Bachelor of Fine Arts, University of Victoria (1984)
Bio/Research Interests:
Doug Buis was born in London Ontario, lived in many places including BC, Mexico, Montreal, Saskatoon, and in California for 7 years, before moving to Kamloops. His BFA is from the University of Victoria and his MFA is from York University in Toronto. His exhibition record includes galleries and museums across Canada, in Holland, Belgium, Korea, New York, Denver, Washington St and numerous venues in the Los Angeles area. Doug has also curated a number of exhibitions in many of the same locations. He was a tree planter for 18 years, having planted close to 2.3 million trees.
In his own work he investigates our malleable perception of landscape and environment through a series of different media and strategies including sculpture, video, kinetic art, installation, other time-based media, photography and some writing.
Videos by Doug Buis
Sculpture/Installation:
Faceless Gardener
Suburban Legend and Sown' Machine
Video Works and Installations
Luminocity: Monte Bianco
Tree Dreams of Verona Frelein
Flight Dreams of Verona Frelein (Long Version)