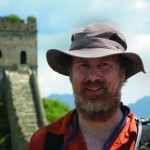 Position: Professor
Phone: (250) 828-5189
Email: donlawrence@tru.ca
Website: www.donaldlawrence.ca
Midnight Sun Camera Obscura: www.midnightsuncameraobscura.com
Education:
Master of Fine Arts, York University (1988)
Bachelor of Fine Arts, University of Victoria (1986)
Bio/Research Interests:
At TRU Donald Lawrence teaches Visual Arts courses in a wide range of studio disciplines, including drawing, foundation, photography and sculpture. He has complemented such discipline-specific offerings with Special Topics courses, including Art and Wilderness, Parade Float, and Shelters and the Art of Personal Vehicles. Through gallery and landscape-based projects his own artistic and other related research practice explores the meeting place of urban and wilderness culture. Such projects as Kayak/Camera-Obscura and the Underwater Pinhole Photography Project relate his particular interests in sea kayaking and the ocean environment to a long-standing fascination with pre-photographic optical apparatuses. In addition to his studio and teaching practices Lawrence engages in a range of publication and conference activities and has been the recipient of research grants from the BC Arts Council, the Canada Council and SSHRC. He is the lead researcher of the SSHRC-funded Camera Obscura Project.