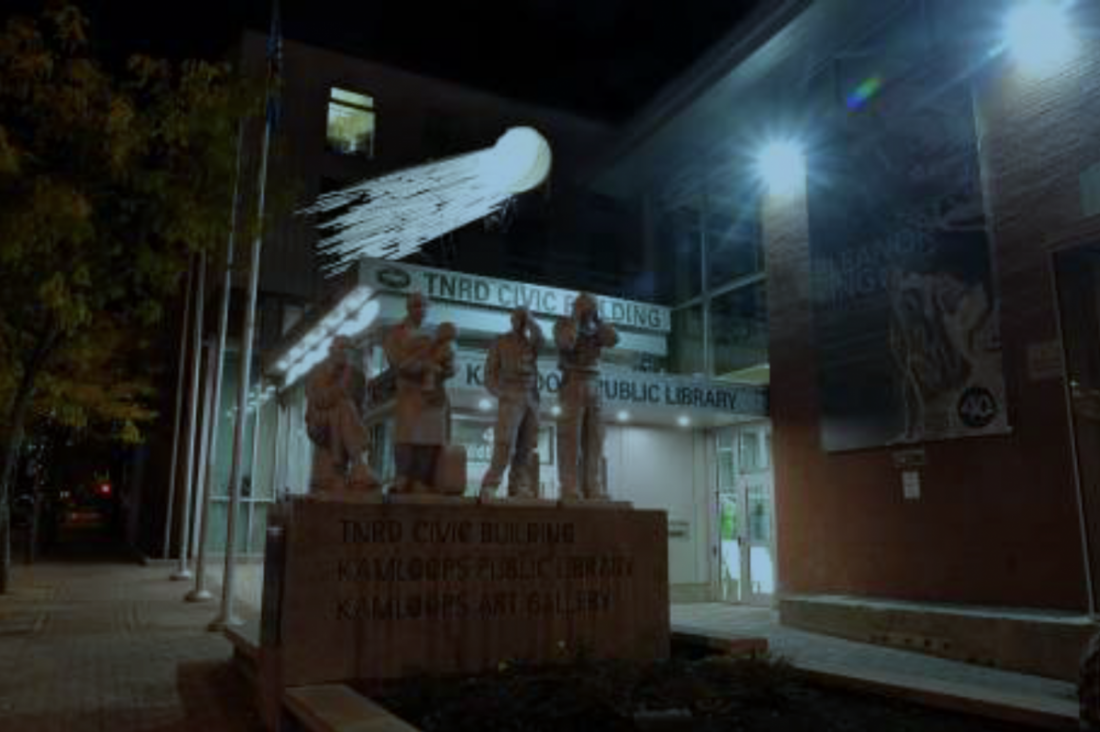 May 11 – 8:30 pm to 10:00 pm
The Kamloops Art Gallery is pleased to announce the inaugural presentation of Donald Lawrence's public artwork, Comet MMXVIII, 2018, on the new entrance to the Thompson-Nicola Regional District Building which houses the TNRD civic offices, the Kamloops Branch of the TNRD Library and the Kamloops Art Gallery.
We invite you to celebrate the lighting of the sculpture at 9:00 pm as part of the opening reception to honour the work of local artist Donald Lawrence. The Gallery will also reveal a new display in the building atrium, showcasing preparatory sketches for the work by the artist, working drawings and reference material.
Comet MMXVIII was created for the Gallery's recent 2018 Luminocity exhibition (luminocity.ca) and served as a beacon of light at Riverside Park during this evening festival of video projections and new media projects. Installed on top of the newly renovated TNRD entrance, this light sculpture will act as a beacon for this public building, marking it as a significant civic and cultural space in the city. It holds visual interest in the daytime and at night, celebrating this building as a key public space in downtown Kamloops and highlighting an exceptional example of local talent. The sculpture also serves as an opportunity to showcase a new work acquired for the Kamloops Art Gallery's collection and visibly marks the excellence embodied in one of Kamloops' principle cultural institutions. The sculpture is representative of the Gallery's rigorous exhibition program and commitment to community engagement.
Donald Lawrence is a professor in the Visual Arts Program at Thompson Rivers University. He holds a Bachelor of Fine Arts from the University of Victoria, Victoria, BC and a Masters of Fine Arts from York University, Toronto, ON and exhibits his artwork nationally and internationally. Lawrence was the 2017 recipient of the Kamloops Mayor's Award for the Arts Artist of the Year award and was the first Chair of the City of Kamloops' Arts Commission.
Research for this sculpture draws upon Lawrence's duel interest in solar phenomenon and optical devices. He referenced numerous books in this research and made sketches based on medieval imagery he sourced. These ephemeral resources will also be displayed in the entrance to the TNRD building to further inform visitors about the sculpture and Lawrence's art practice, and to mirror the Library's fundamental interest in books, their importance and history.
Donald Lawrence currently leads The Camera Obscura Project, a multi-year program of research funded by the national Social Sciences and Humanities Research Council, among the larger research grants that has been awarded to Canadian artists, and to TRU faculty, that has seen an international group of artists and scholars, including TRU students, involved in projects in Alberta, British Columbia, Ontario and the Yukon.
Image credit:
Donald Lawrence
Comet MMXVIII, 2018 (mock up on TNRD Building)
salvaged galvanized items and fluorescent light tubes, LED lights, Bubble Wrap, rope and tackle
444.5 x 279.4 x 88.9 cm