Posted on: October 4, 2013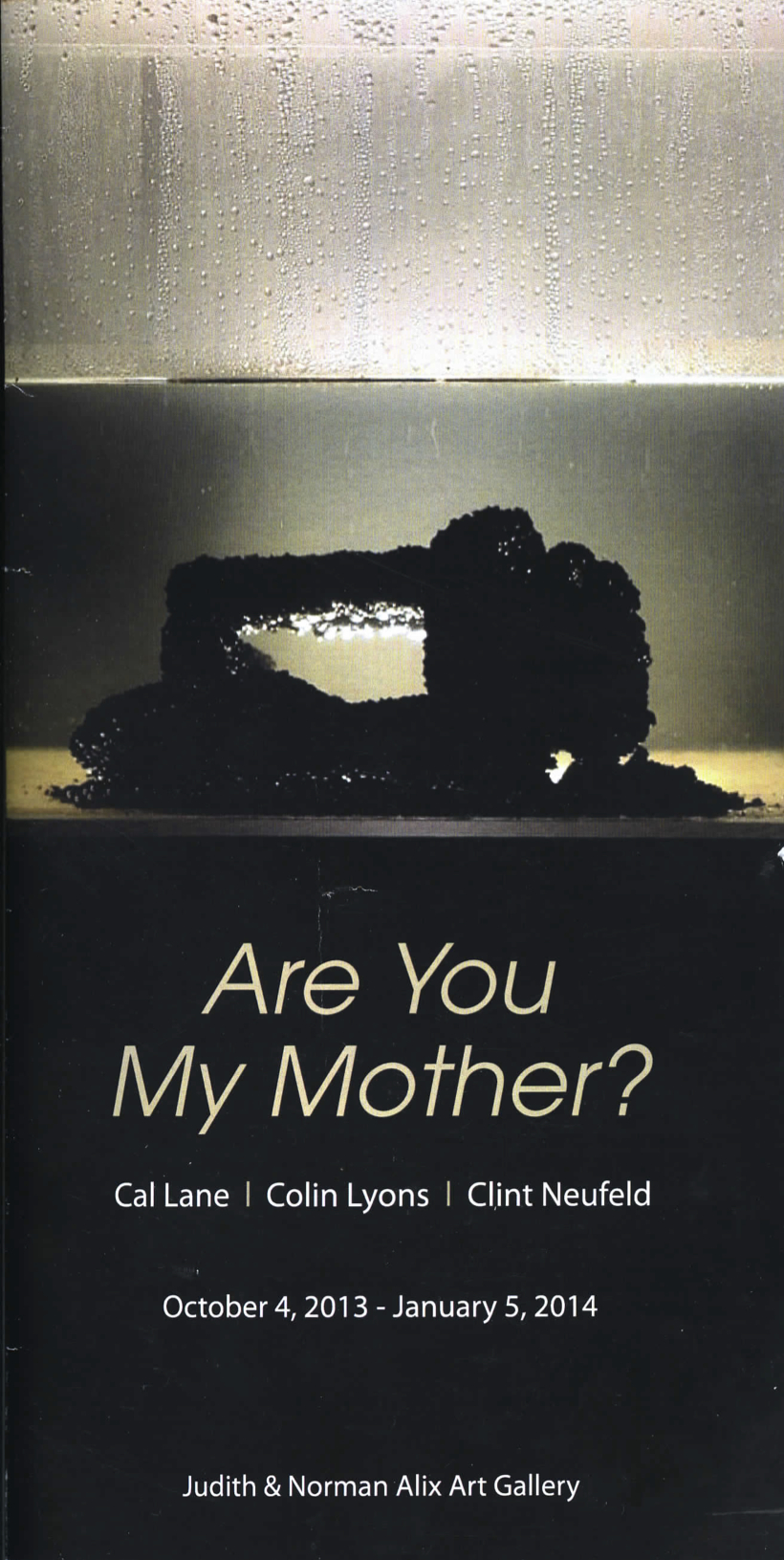 Are You My Mother?, Judith & Norman Alix Art Gallery (Sarnia, ON)
Cal Lane, Colin Lyons, Clint Neufeld, curated by Lisa Daniels
October 4, 2013 – January 5, 2014
We live in an era marked by an accelerating pace of change, where there are ever increasing quantities of the soon to be obsolete. Planned obsolescence, the integration of its own demise into a newly manufactured object, is a widely acknowledged fact in contemporary technology. Are You My Mother? provides an opportunity to reflect on a time gone by while considering our future.
Lyons' work focusses on the process of ruination at all stages of transformation. In Automatic Ruins three dimensional replicas of a discarded industrial object, constructed from zinc etching plates, are submerged in a solution of copper sulfate and are actively in the process of becoming ruins throughout the course of the exhibition.
Neufeld works with concepts of masculine identity, beauty and contradiction in the form of ceramic engines and machinery. He has taken a popular symbol of the alpha male and re-contextualized them into objects of delicate beauty, perched on top of elegant pieces of antique furniture.
Reminiscent of medieval tapestries and delicate lace, Lane transforms discarded industrial aluminized steel corrugated sewer pipes, rusty I-beams and used oil drums into objects of beauty. Filled with contradiction, her sculptures pull together industrial and domestic life as well as relationships of strong and delicate, masculine and feminine, practical and frivolity, ornament and function.
Rooted in the inevitability of transformation and finding comfort in paradox, all three artists engage materials, images, concepts and processes that pull together rich and often contradictory juxtapositions of industrial and domestic life. The intrigue generated by these works, both individually and collectively, is never exhausted and the more the work is contemplated, the more the viewer is rewarded. Each of these artists understands how the combination of dissimilar objects, images and contexts can create a never ending supply of new stories and meanings.
For more information, visit: www.jnaag.ca