Posted on: April 15, 2018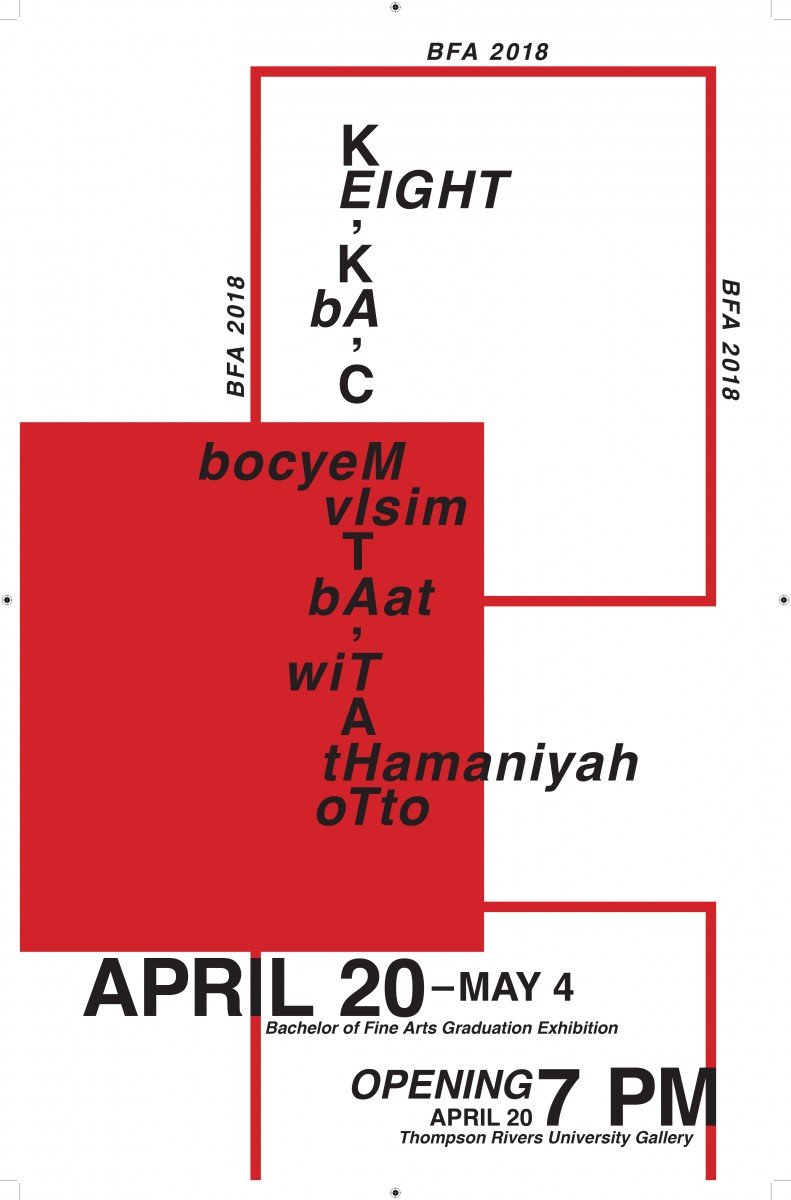 Bachelor of Fine Arts Graduating Exhibition: Eight
April 20th – May 4th, 2018         
Opening Reception: Friday  April 20, 7 – 9 pm
TRU Art Gallery and Visual Arts Department, Old Main Building, TRU
Artists: Ruba Alshoshan, Edward Cheung, Serena DeRosa, Kelsey Ehalt, Debra Kessler,                        Anni Yongyi Li, Rose Prevost, Darci Turnquist,
You are invited to attend the opening gala for the BFA graduating exhibition Eight. That evening the Visual Arts Department and TRU Art Gallery in Old Main will be filled with the sounds of students, family, friends, guests and community members discovering the artistic achievements of the students. Transformed from a school to an exhibition centre, the Visual Arts wing of Old Main will showcase works ranging from paintings, photographs and prints to sculptural and video installations.
The exhibition celebrates the growth and achievements of these emerging artists as they complete their degree and prepare for convocation in just a few short weeks. An accompanying exhibition catalogue provides information on each of the artists including images of works in the show.
As visitors make their way through the many exhibition rooms, you are encouraged to discuss questions and ideas about the works with the artists. Exploration and discussion is a wonderful way to get involved in the show and create a friendly open environment!
Refreshments will be served. Doors open at 7:00, speeches and awards at 7:30 in front of the gallery. We hope to see you there!