Posted on: March 8, 2020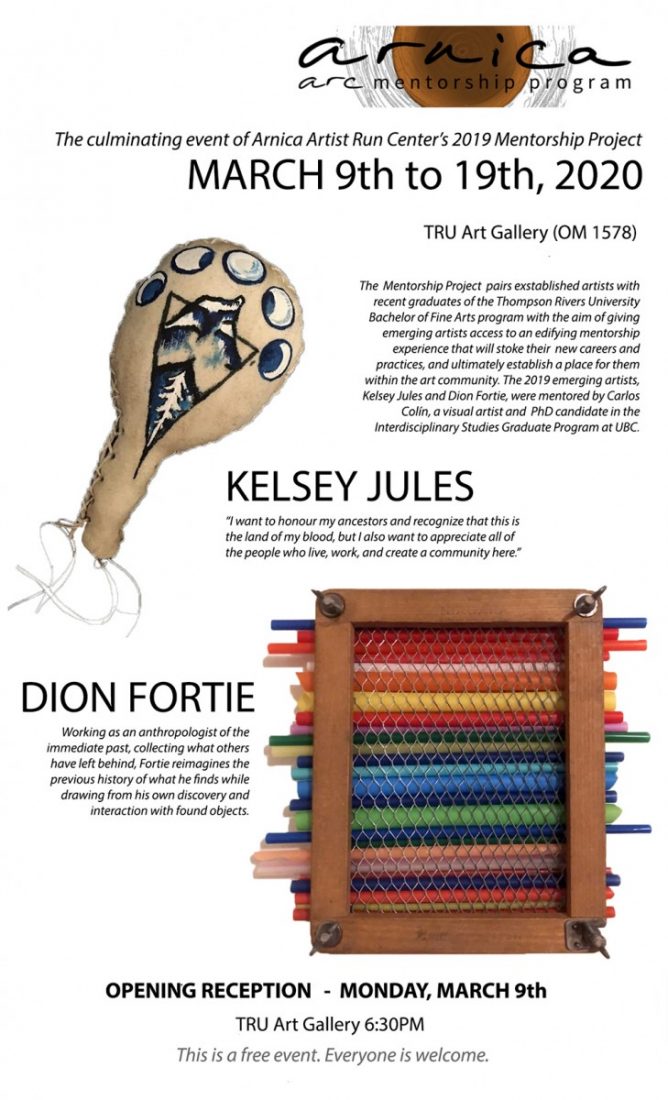 Exhibition of new work by Kelsey Jules and Dion Fortie
TRU Art Gallery March 9 to 19
Opening reception: 6:30pm Monday March 9 (refreshments will be served)
Join us Monday March 9 for the opening reception of an exhibition of new artwork by emerging local artists and TRU BFA alumni Kelsey Jules and Dion Fortie. This exhibition is the culmination of a 12-week mentorship program conducted by Arnica Artist Run Centre. The program matches local emerging artists with mentors from across BC, bringing the mentor to the artist. The vartists will be joined by their mentor, Vancouver artist Carlos Colin, and all three will speak briefly about the mentorship program.
Arnica Artist Run Centre Mentorship Program:
The Mentorship Program aims to provide opportunity for support, artistic influence, advancement and exposure to young artists without having to leave our community to accomplish that. As a pilot program, Arnica ARC has attempted to bridge the professional gap young artists often experience, having graduated from training but not yet able to qualify for professional level grants in order to create new work and travel to exhibit. Sponsors:
This program and exhibition are kindly sponsored by the Vancouver Foundation, City of Kamloops Social Planning Grant, BC Festival of the Arts Legacy Fund, and Nature's Fare.

Please join us to celebrate with the artists, mentor and community.